I wanted to do
the 15 Minute Challenge
, but I couldn't figure out how. I have seven hours a day to myself - of course I can manage to find 15 minutes to sew!
But then I realized how long the
Steelers Quilt
has been languishing without borders.
I didn't make my
Saturday Sampler block
this month because I was at a family reunion. It still needs to be made, but without any incentive...
And
Frolicking Pinwheels
? That's stalled because I haven't cut any 10.5" squares. That's the only reason.
Not to mention the pile of mending that I never seem to get to. I didn't wear my favorite brown slacks at all last winter because I didn't make time to fix on hem.
So maybe I don't need 15 minutes to sew. Maybe I need 15 minutes to sew on a UFO before working on something else.
So...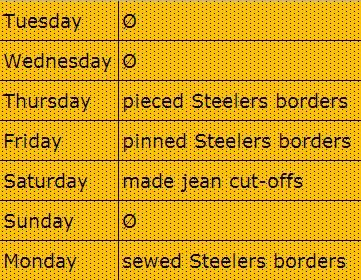 And just like that, the Steelers quilt is almost done.