I had a couple more Joann's coupons to use up, so...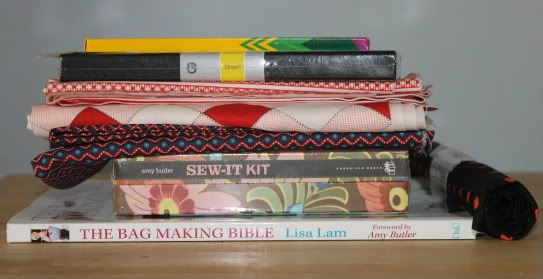 Three more yards of the DS Quilts - I decided, in Denyse Schmidt-fashion, to finally make a log cabin. But in non-DS-fashion, I'm making it traditional.
I also grabbed 2/3rds of a yard of the orange/black from the remnants - it's a good Halloween filler, or OSU filler.
My other fun purchases were a new set of colored pencils for $0.50 at Target (love back-to-school sales!), the Sew-It Kit and small graph paper book from a Border's clearance sale, and the Bag Making Bible, which I've wanted for a long time. I made my first bag based on a
u-handbag
tutorial - love her stuff!
Used this Week: 3.75
Used Year to Date: 81.68
Added this Week: 3.66
Added Year to Date: 131.2
Net Used for 2011: (49.52) yards