After finishing up all the in-progress
chunky log cabin
blocks - and hating them - I needed something light and easy to work on.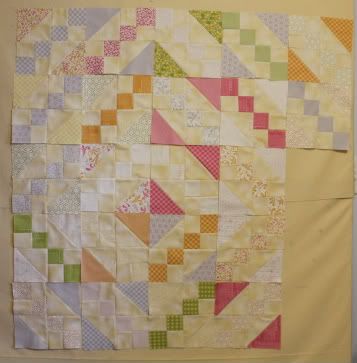 Thank you,
Jo and Moda Bakeshop
. I already had the Sunkissed charm packs, so I made HSTs out of one and 4-patches out of the other.
I wanted to lay out the log cabin in a barn raising pattern, but my awful color choices will prevent that. This one will end up being my barn raising.
I didn't have the jelly roll that the pattern calls for, so mine will only be about 48x56" without borders, but that's a good size baby quilt.