Three pink doll quilts made from pink scraps of
Bad Romance
!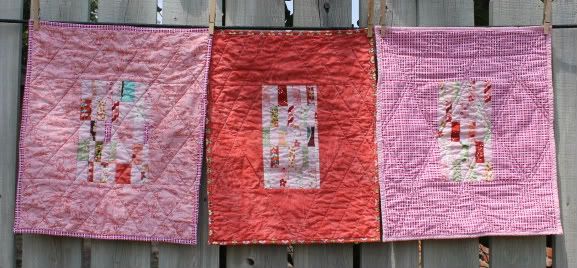 These were gifted to my friend's daughters - the oldest has been one of the Dude's friends since birth. They were both born in Washington and went to baby swim classes together, and then they moved to Oklahoma. We followed 18 months later. Now they're off to a Guard unit and we'll stay active duty, so we probably won't follow them this time. :(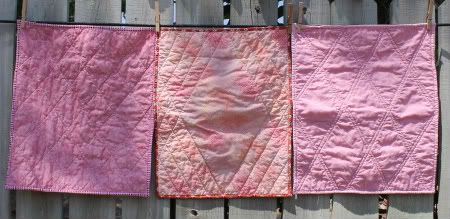 After cutting all the strips for Bad Romance, I had teeny scraps of stuff leftover, so I sewed them together. There wasn't enough left for anything, really, but I decided to throw wide borders on them and make them doll quilts for the girls. So they're the same, but different.
I quilted them in three different diamond patterns and backed them with dotted pink fat quarters.
Each is about 16x22."
I hope the girls remember the Dude when they wrap their "babies" in these!