Absolutely nothing on the design wall, because I have a pile of stuff to finish elsewhere.
Grinch
,
Christmas Stars
- all ready for quilting.
Rudolph
will not go on the design wall since the Dude kind of lives here.
Plus, there's this...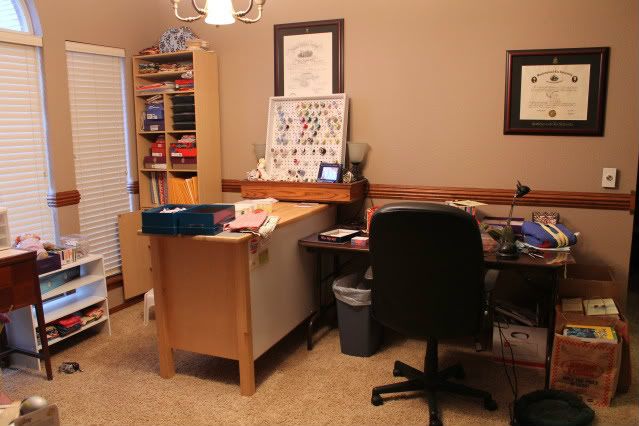 We have a big open room for the dining room/kitchen/living room in the middle of the house. We don't have a dining room set, so that room started as a book nook. There used to be large bookcases on that wall. Now they're in the office and I'm...not.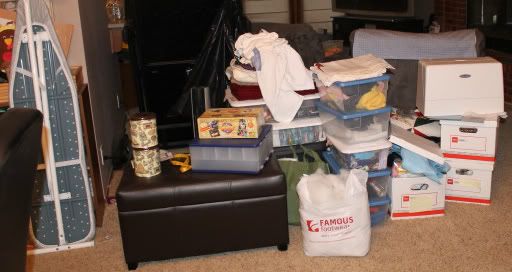 And somehow I have to fit all of this in my nook.
I don't even know where my design wall is going to go! Right now, probably in front of the treadmill (which was supposed to move to the office but won't fit through the doorway.)
I guess that's just part of the joy of being a military wife. By the time we settle on an arrangement that fits, it'll be time to move and jigsaw ourselves into a new house.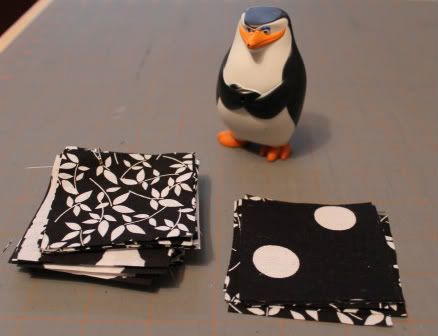 In between cleaning shelves and moving furniture, I've been cutting squares for
Skorca!
I'm trying to resist buying new fabric for it. I have the few dot scraps, and then just four other B&W prints I've been using. Not much variety, but it needs to be used, so... This is 47 of the 88 squares I need to cut to make my HST
this way
. And then I need to cut 88 whites!