Well, I survived my hardest week of training in, um, probably forever. I've never done a running plan with a 12-mile long run. Longest I've ever run pre-race was just shy of 11, and that didn't include a week of heavy duty sprints and tempo runs beforehand. Ow.
But now I am tapering and foam rolling and icing and treating my legs like princesses. Princess who take Epsom salt baths instead of bubble baths, that is.
And sewing! I've done some of that, too!
Stalled out when I realized I didn't calculate my yardage right. And did I mention I bought this fabric last summer in Sun Valley? Oops. I called the store, emailed with the very nice owner and I think the right fabric is on it's way. Otherwise...
But hey - look! I got my design wall off the floor!
...and the countdown to CC pulling it down begins.
This is one of my very first fabric purchases, some eleven years ago. It was supposed to become a pillow, I think. Instead, it became a doll dress last year, and then relegated to the scrap bin.
Ever walk into a quilt store, spot the perfect border print immediately, then wander around for thirty minutes because really, the first one can't possibly be the best one?
Yeah. The first one was the best one.
Another project in the bag for long-arming!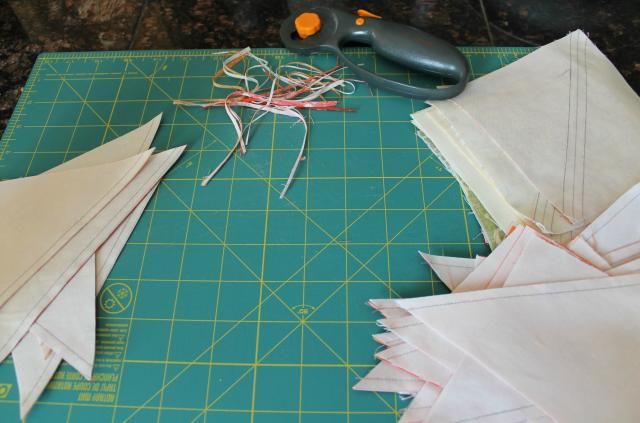 And once Flirt was done and I hit a dead end on Road, I went back to whipping up HSTs for in between my sprints. Because I'm fun like that. Almost all
the chevrons
are triangled-up now.
Hmmm, I may have more tops done by the end of the month than I have time to quilt them...
And finally, Celtic Solstice has been relegated to leader/ender status. Four 54-40 blocks are done, and there's various pieces of each step scattered about the sewing room.