Ahh, it's that time of year again. Time to look at my list of projects and realize how woefully behind I am, and how I manage to add projects without finishing any first. At least since it's the new year, I can give the list a good scrubbing?
Orders
Matching PJ set - ordered
Vera Bradley Stars Quilt - ordered
Witch Table Runner - ordered
Wedding Quilt #1 - blocks have been signed! Waiting for them to be sent back.
Christmas Tree Skirt/Stockings - due Dec. 2014
Awaiting Binding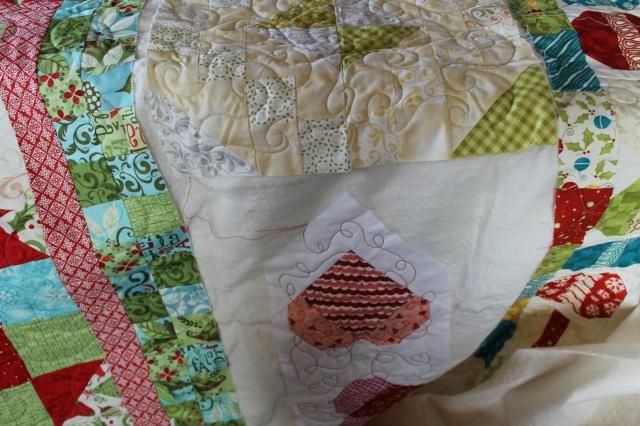 Anyone else tired of this picture? Yeah, I really need to cut these apart and slap some binding on them! At least the Valentine's Day ones.
Postage Stamp Table Runner
To Be Quilted
Partially Pieced
{as in, I already own the fabric & pattern}
Cardinal Charm Tesselation
Coffee panels and yardage
Lone Star
Pez Schnibble
Voila Pumpkin Kit
Bonnie & Camile Spin City
Trip Around the World
California Girl Double Hourglass
Hello Luscious Avignon Picnic
Mason Jar quilt
Homespun + Jeans
Scrap Project
{as in, scraps that are partially pieced in some way and enough to make a mini or pillow, or there's enough that I can get another entire quilt out of it and am therefore unwilling to separate them...}
Civil War Scraps
HST Joy Scraps
Winnie the Pooh Scraps
Sew Cherry HST Scraps
Fairy Scraps
Saturday Sampler '11 Scraps
Pink Hunter Star Scraps
Blue Hunter Star Scraps
Steelers Scraps
Small Project
{already in some stage of production}
OU/OSU Bunting
Crayon Rolls
Car Organizer
Red Suede Purse
A ridiculous number of pants that need hems or elastic repaired