It's not modern, it's not all that mini, and technically it's not even a quilt yet, but....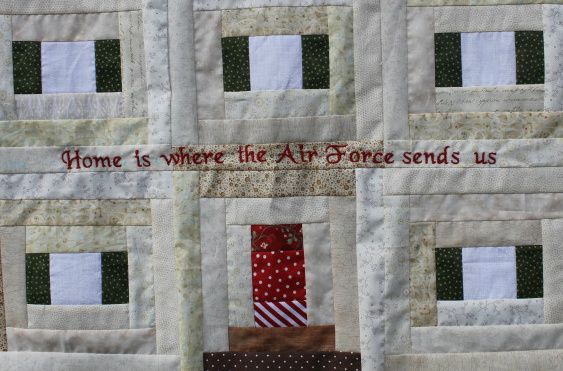 I told my husband I wanted one of the "Home is Where..." plaques for Christmas. Except I told him in mid-December, and they all require way more lead time than that. So he got me speakers for my sewing room (totally worth it) and I decided, when
this modern mini-quilt challenge
came along, to make my own "Home is Where..."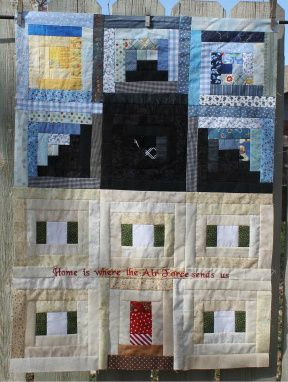 It's constructed of (very traditional) log cabins and courthouse steps. Each block measures 8" finished; the quilt is 24x32". It fits perfectly on my wall, but seems huge for a "mini-quilt."
It's unquilted as of yet. I tried both hand and machine embroidery for the names of the bases, and I didn't like either. I need to practice my hand embroidery and reattempt.
Plus, we are about ten years in this Air Force journey, so there's going to be some more places added before it gets finished.
Plus, I'd like to applique our faces in the windows, and
our family is not yet complete
. For now, it will be framed.
The house is beige with green shutters - same as the house in Washington where the Dude was born. I'm not sure why I went with a red door - perhaps a secret desire to be Episcopalian.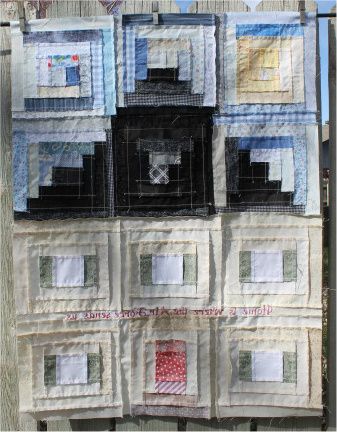 The absolutely anal part of me loves the back of these blocks.
Linked:
By the way, I did notice that I hit 50 followers on Leap Day. Even though #47 was my mom. (Love you!) So stay tuned for a followers-only giveaway tomorrow! (Mom's not eligible.)