I was not so good this week...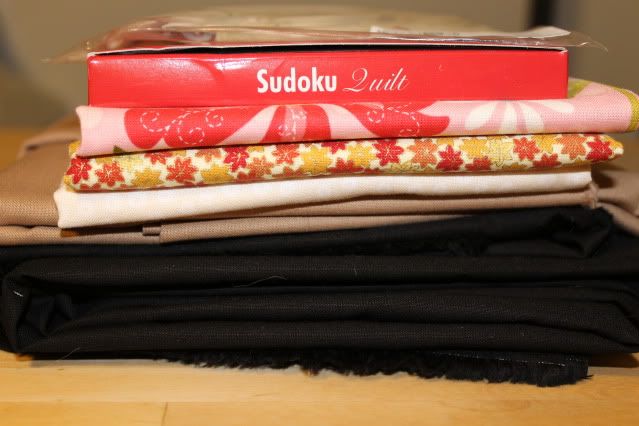 Some was necessary - I bought 3.33 yards for the backing of
Halloween Hexagons
, which I'm quilting this week. I decided on black Kona because I can use the leftovers for the
Steelers Quilt
binding.
I'm doing the
Argyle Quilt Along
and used 1.5 yards from stash...but I needed another half yard of focus fabric and over 2 yards of solid. One step forward, one step back.
I also picked up a half yard of the background fabric for the
Fat Quarter Stars
quilt along.
And that would be all of the "necessary" shopping... Then there was the Central Park Sudoku kit on
Stitch Steals
. And since I was already paying for shipping...I got a half yard of Sweet Divinity - I have some of the fat quarters.

I didn't finish anything...I really need to get some quilting done to knock off some backings.
Used this Week: 0
Used Year to Date: 109.78
Added this Week: 8.83
Added Year to Date: 152.95
Net Used for 2011: (44.17) yards
Check out how everyone else is doing on
Patchwork Times
!