A couple little purchases this week, and finally, the finishes are starting to roll in.
I bought another 1/4 yard of the purple Kona - which is actually Thistle, not Petunia - to finish up the borders. I ran over to my favorite quilt teacher's house to shop her stash when I realized I was exactly three 3.5" squares short on the triangle border. We found some that blended nicely, plus some actual vintage sheet that made a great second border.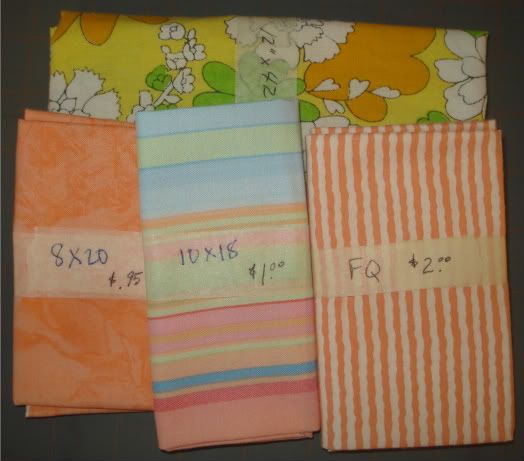 I finished this quilt this afternoon, but you'll have to wait until Tuesday to see it. ;) It used up 3/4 yards of the purple, one charm pack + five extra squares, and 12" of the vintage sheet.
I finished the sailboat top and decided to weigh it, since there so much random piecing in it. I read that a yard weighs between 4.4 and 4.5 ounces, which makes the top about 1.82 yards.
Oh, and I bought 21" of a U.S. Navy print from the remnants at Hobby Lobby. Because I might not have enough military fabric.
Used this Week: 3.75
Used Year to Date: 22.14
Added this Week: 1.67
Added Year to Date: 39.44
Net Used for 2011: (17.3) yards